No Bark, All Bite
Anyone who's found gnaw marks on the legs of their dining room table, or discovered a series of holes on the underside of their box spring, knows how powerful a tool bunny jaws can be. And while we might bemoan our rabbits' tendency to chew on anything and everything, it's important to realize how dental health affects your bunny in other ways.
Rabbits have 28 teeth, just like most humans
, but they're configured a little differently. The most visible teeth, the incisors, are the ones that can do the most damage. They're designed to grab food and cut it, but they also grab and cut a lot of other things like telephone and electrical cords!
You'll probably never see your rabbit's back teeth, or molars. They do the hard work of grinding down the
hay and veggies
you feed your rabbit. In a healthy rabbit's mouth, they also grind against each other, to maintain the proper length.
Photo courtesy of
: http://izjustagirl.blogspot.ca/2012/10/rabbit-teeth.html
(Thank you!)
When the teeth don't fit together properly, it's called
malocclusion
. Malocclusion of the incisors can make it impossible for your bunny to eat. It's relatively easy to examine the incisors by holding your rabbit gently and pulling her top lip back. Check to make sure the teeth are not loose or uneven, and that the gums are a healthy pink.
Molars can grow sharp spines, called spurs. You won't be able to see this yourself, because those teeth are so far back. There are clues, however, that you can keep an eye out for.
If your rabbit seems to be drooling, if there's any swelling or pain at the jawline, or if you notice a sudden decrease in food intake, call your vet, who will look inside your bunny's mouth with a tool called an otoscope.
Rabbit dentistry can fix a variety of tooth issues, but early detection is crucial.
Have your rabbit's mouth and teeth inspected by a bunny-savvy vet at least once a year, more often if she's had problems in the past.
And always provide your rabbit with safe objects to chew, like cardboard, untreated wood, and pinecones.
**********************
Never trim the overgrown incisors of your rabbit with a pair of small wire cutter or with nail

clippers !!!
It is painful, crude and, sooner or later, a source of serious dental

problems !!!
Correction of dental disorders should be done by an experienced veterinarian only
In the case dental disease is suspected or observed, the oral examination made on a conscious rabbit should be accompanied by a general examination of the rabbit, an ophthalmologic examination and examination of the oral cavity under full anesthesia, accompanied by radiography of the skull under various angles, in order to assess the health of the teeth roots and the periodontal tissue, infection, the presence of an abscess or development of osteomyelitis (bone inflammation).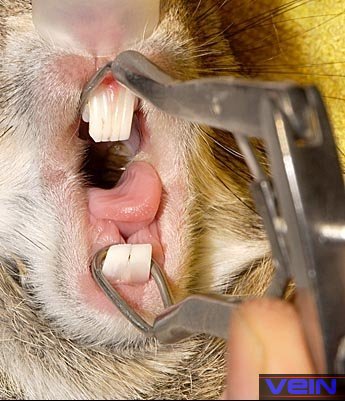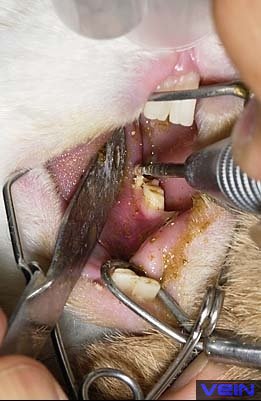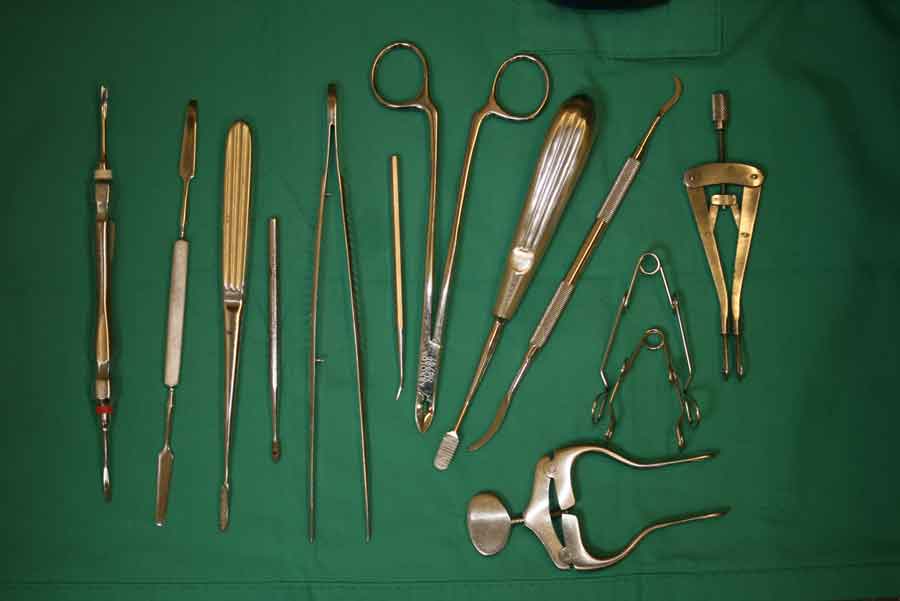 Set of tools used by a veterinarian for rabbit dentistry
The size of the oral cavity of the rabbit is small, and motion range of the jaws is limited.

This makes examination of the oral cavity with an othoscope on a conscious rabbit difficult. Dental problems or lesions can easily be overlooked.

The full evaluation of dental problems and their treatment (trimming of incisors, coronal reduction, etc) is only possible on an anesthesized rabbit, using proper instruments like incisor gags and cheek pouch retractors, or a table top gag... If the case that a rabbit is allergic to an anesthetic drug or anesthesia is not possible due to health problems, trimming of overgrown incisors can be done on a conscious but sedated rabbit.
Incisors and molars have a high growth rate, about
11-12 cm a year throughout the life of a rabbit. This means that trimming of abnormally growing incisors may be needed every 4 to 6 weeks, sometimes even every 3 weeks. Surgical removal of the incisors may be an option to avoid regular visits to the veterinarian, more so to avoid the onset of soft tissue damage, abscesses and/or secondary problems like dacryocystitis and blockage of the sinuous nasolachrymal duct.

Regrowth

of the removed tooth is rare.
A visit to the vet for a dental check-up:
Footnotes and further reading:
http://www.medirabbit.com/EN/Dental_diseases/Treatment/Clipping.htm
Info removed for footnote:
http://rabbitsanctuary.wordpress.com/2012/10/03/no-bark-all-bite/#comment-234